The day may come when you feel your can no longer provide the care that your loved one with Alzheimer's needs. If and when that happens, you will want to look for a quality San Diego Alzheimer's care facility.
San Diego Alzheimer's care facilities, also known as memory care facilities, are staffed and equipped to care specifically for residents with Alzheimer's and other forms of dementia.
There are many memory care facilities throughout the San Diego metropolitan area; however, not every community or home will be a suitable fit for every resident. It's important to take certain steps to ensure that you are selecting an appropriate facility for your loved one.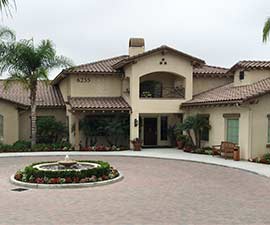 It is important to take time to visit the facilities you are considering. Do so at a couple of different times of day, and make sure to drop by when meals are served.
Request copies of the facilities most recent inspection report, and ask what kind of safety and security features are in place. Is the facility clean and well-lit? Is it comfortable? Observe how staff interact with residents. Are they patient and caring? What is their philosophy?
If you have a good feeling about a San Diego Alzheimer's care facility, there are several questions you should ask before you sign a contract.
Staffing
What kind of training does the staff have?  Is it ongoing?
Is the facility appropriate for the stage of dementia that your loved one is in? What about the future stages?
What is the ratio of staff to residents? Will your loved one get the attention he or she needs?
Are care plans individualized?
If your elder has other health conditions, are medical services and staff in place to see to those needs as well?
Are staffed trained to deal with aggressive residents (if applicable)? What about residents who pose a flight risk?
What forms of therapy are provided?
Quality of Life
Are there activities available to keep your loved ones engaged in life?
Can residents go outdoors at will?
Do meals provide ample nutrition? Is the menu varied and tasty?
How much privacy and independence do residents enjoy?
Can residents bring items and furniture from home to decorate their rooms to enjoy some familiarity in their surroundings?
Communication
What are the procedures for visiting the memory care facility?
Will you receive regular updates on your loved one's well being?
How are emergencies handled?
Costs
What are the total costs for care, and how are the fees structured?
Since most costs will be paid out of pocket, what happens if your elder can no longer afford care there.  Is it possible to transition to Medicaid?
If you'd like some local help choosing a San Diego Alzheimer's care facility, please call Elder Answers at 619-538-9155, or email to contact@elder-answers.com. 
We know the San Diego memory care communities well and can help you narrow down your options and decide on the most appropriate care facilities for you to visit and consider for your loved one, saving you time and worry.